Since 2017, we have been rolling out environmental initiatives under our #GreenAtWork programme in a bid to reduce our environmental footprint and encourage employees to practise environmentally friendly habits.
---
ENVIRONMENTAL AWARENESS

#GreenAtWork
Themed "Zero-Waste Your Lifestyle with GreenAtWork", this event was held from Earth Hour on 29 March 2019 to the week of World Earth Day on 22 April 2019. It was also extended to all our branches nationwide.
The activities held were: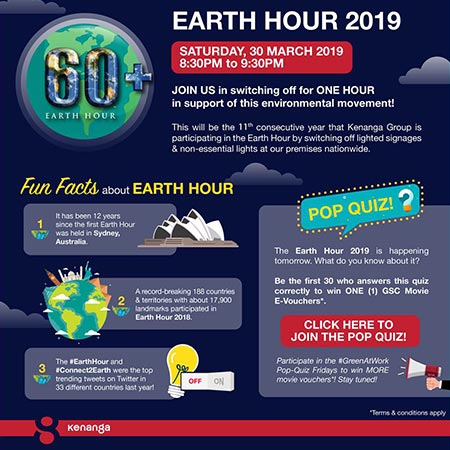 Earth Hour Pop Quiz
169 PARTICIPANTS
Kenanga Group joined the world for the 11th consecutive year to switch off lighted signs and nonessential lights at its premises nationwide. Employees learnt about Earth Hour by taking part in a pop quiz.
Recyclable Plastics Trade-in
110 PARTICIPANTS
Employees traded in their recyclable plastic items to redeem items such as reusable straws and shopping bags. The amount of recyclable plastics collected increased from 140.8kg in 2018 to over 300kg in 2019.
Pop Quiz Fridays
715 PARTICIPANTS
A pop quiz on Zero-Waste lifestyle was held to focus on the themes Facts about Plastics, Zero-Waste Lifestyle and Organic Farming. Over 900 submissions received for the pop quiz, which had more than 65 winners.
Bring Your Own Container Mondays
160 PARTICIPANTS
Employees were encouraged to bring their own mugs and tumblers to redeem a free drink each at San Francisco cafe in Kenanga Tower. This saved on the use of over 140 disposable cups and 80 takeaway plastic containers.
Eco-Workshop Wednesdays
184 PARTICIPANTS
Three (3) different workshops were conducted on turning waste into useful items. Employees made natural sugar scrub, moulded Kokedama and created desktop aquaponics.
This annual #GreenAtWork campaign aims to create greater environmental awareness and appreciation, as well as demonstrate support for environmental protection. Over 50% of the Group's employees nationwide took part, while over 80% of the 823 employees from headquarters participated.
Environmental Resource Management
Energy
We continued to monitor and control air-conditioning consumption during the year
We are embarking on an energy-saving plan for Kenanga Tower and we expect to see a reduction in energy consumption in 2020.
Average Monthly Electricity Usage in the Last Three (3) Years* (in kWh)
Environmental Resource Management
Waste
We strive to reduce our office waste by recycling as much as possible. In compliance with the regulatory requirements on proper waste management, we have appointed a licensed waste disposal contractor to manage and dispose of our solid and scheduled wastes.
We are also reducing paper consumption through initiatives such as discontinuing the printing of remisiers' daily reports, which are now disseminated electronically. We have also placed recycling bins at the waste chamber in Kenanga Tower to encourage the practice of waste separation.
Environmental Resource Management
Water
We are committed to reducing, reusing and recycling water, which is essential in the Group's daily operations. We strive to minimise our water usage at Kenanga Tower by implementing various initiatives including a rainwater harvesting system on the rooftop of Kenanga Tower. The system collects, stores and channels rainwater for common washing purposes.
Water Consumption in the Last Three (3) Years* (in m³)
*Data collected is only for Kenanga Tower